Planning Your Laundry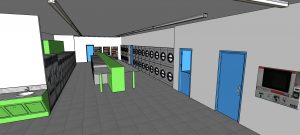 Store location is key to the success of your card or coin laundry business. That's why it's critical to locate your store in a demographically appropriate area. There are many factors to consider when selecting the location for your coin laundry business, including traffic density, population, competition, availability of utilities, store visibility and even available parking! Be sure to consider a location's traffic patterns and volume, neighborhood trends and competition. Are there any other coin op laundries nearby? If so, how might their business affect yours? Your Continental distributor can help you answer these questions.
Los Angeles has the highest percentage of renters in the U.S., and these renters demand a clean, safe, and attractive store environment to do their laundry. Branding and store design differentiates you from your competitors. It's the key to turning prospective consumers into loyal customers. A quality store experience promotes brand loyalty, giving your customer a feeling of familiarity, reliability, and comfortability.
Design Consulting services included are:
Design a creative look and feel for your laundromat that sets your store apart from others
Partner with you to select materials, paint color, and create the overall look and feel of your store from construction to store opening
Work with contractor and equipment distributor to design an efficient use of space for all the laundry services you are providing